The Real Estate Knowledge Base (BWN) portal is a new generation geoportal providing services based on artificial intelligence algorithms.
In addition to standard map layers such as plots, buildings, orthophotos, mpzp and others, the portal has reference analytical studies supporting the tasks of determining the actual real estate value – including accessibility of public transport, population density, average buildings height, biologically active areas or attraction zones.
The portal provides a set of tools for real estate valuation based on artificial intelligence algorithms (single and mass valuation) and tools for valuation using the comparative method, including the selection of similar transactions. The valuation is accompanied by full information on the real estate, including information from notarial deeds, land and mortgage registers, building permits, and the local development plan.
The portal also has a convenient interface for using our eXtracToolbox tools for automated extraction of information from scanned analogue and other documents, and a graph knowledge base client application for complex queries including natural language questions.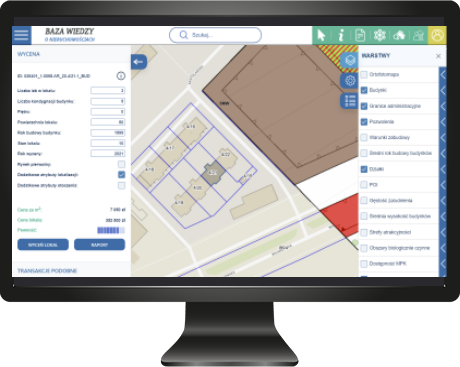 Key functionalities of the Real Estate Knowledge Base Portal:
thematic maps for the city (public transport availability, POIs, population density, zones of attractiveness,
average year of construction of buildings, biologically active areas),
extraction of information from documents in tens of seconds,
browsing, searching, editing, analyzing and downloading data,
browsing connections with real estate (buildings, plots, premises) and transactions,
supplemental information on the real estate (local development plan (content + schedule), KW, building permits, etc.),
answers to questions such as "find buildings with premises in the price of 5-7 thousand PLN/m2, where the neighborhood is quiet, green, with playgrounds and has a good public transport connections",
discovery and selection of similar transactions,
real estate appraisal (single and mass for a specific area).