The AnonAI application is a modern web application with high efficiency, used to anonymize documents, using artificial intelligence algorithms to identify and find specific information and its context.
The application has predefined configurations for legal documents such as notarial deeds, notifications from land and mortgage registers and other official documents. It allows you to configure (select a set of fields) and perform anonymization for single files, as well in bulk mode (many files at once). It supports PDF document (with or without text) and image files. In addition to anonymised documents, it is possible to export a complete information on the process performed and save it to a file or a database.
The application uses the mechanisms of our eXtracToolbox tools for automatic reading of information from scanned documents.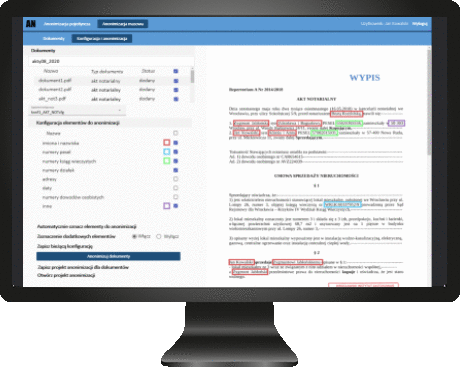 Key functionalities of the AnonAI application:
automatic detection of selected elements, e.g. names and surnames, PESEL numbers, ID card numbers, land and mortgage register numbers, plot numbers, addresses, dates and many others,
high efficiency thanks to the use of artificial intelligence algorithms,
works on single document or file folders,
convenient configuration – places to be anonymized are marked with frames in different colors,
saving of anonymization projects,
adaptable to any set or type of documents.